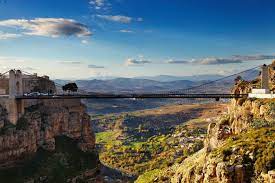 Algeria Travel Vaccines and Advice
Algeria is a North African country, located on the Mediterranean coast of the continent. Less visited than its Tunisian and Moroccan neighbors, the biggest country in Africa truly deserves to be discovered. Travelers will be amazed by the beauty of Algeria's natural landscapes. The North is home to a stunning coastline and the magnificent mountain range of Kabylie. The Sahara Desert is stretching across the South part of the country, offering a unique change of scenery with its endless ocean of sand dotted with green oases. The charismatic capital city, Algiers, offers deep historical and cultural experiences, away from mass tourism.
HEALTH INFORMATION
We make every effort to ensure that the information posted on our website is up to date and accurate according to the latest public health recommendations; however, it is impossible for us to make changes on a daily basis.
For the most current travel health recommendations, please call our clinic as make an appointment with one of our travel health professionals.
ALGERIA – RECOMMENDED VACCINES
Hepatitis A
Recommended for all travelers.
Hepatitis B
Recommended for all travelers.
Causes, Symptoms & Treatment – Typhoid fever
Recommended for all travelers.
Tetanus – Diphteria – Pertussis Vaccine
Tetanus: In exceptional circumstances (eg, stay in a region where access to health care is limited), for a person aged 18 years or older, 1 dose of DT may be given if 5 years or more has elapsed since the last dose.
Otherwise, one booster dose at the age of 50*.Pertussis (Whooping Cough):  1 dose is recommended for pregnant women, for every pregnancy, regardless of immunization history and the interval since the last dose (betwen week 26 and 32).
*Only applicable for Quebec.
Measles – Rubella – Mumps
Two doses recommended for all travelers born after 1970, if not previously given.
Flu – Influenza
Seasonal influenza occurs worldwide. The flu season usually runs from November to April in the northern hemisphere, between April and October in the southern hemisphere and year round in the tropics. Influenza (flu) is caused by a virus spread from person to person through coughing and sneezing or by touching infected surfaces. Everyone 6 months and older should get a flu vaccine yearly. Vaccine is recommended 14 days prior to departure.
Routine vaccines (dCaT, Polio, Meningococcal, Shingles, Pneumococcal, Hepatitis B, HPV, MMR & Varicella)
Recommended for all travelers
Transmission, Symptoms and Prevention – Rabies
For travelers at high risk of animal bites or being involved in activities with bats, dogs and other mammals. Clients who plan to visit remote areas may consider receiving this vaccine. Important to note the pre-exposure rabies vaccine is administered in 2 doses with one week interval between doses. Post-exposure vaccination is always recommended, even for those previously vaccinated.
Schistosomiasis
Avoid swimming in fresh water.
Turista – Traveler's Diarrhea (ETEC)
Talk to your health care professional about the risks and precautionary measures to take, as well as the Dukoral® vaccine. Important to note that the Dukoral vaccine is an oral vaccine given in 2 doses, recommended at least 2 weeks prior to departure.
Cholera
Recommended for humanitarian workers, health care providers and/or adults who are traveling to areas of active cholera transmission.
The Yellow Fever Vaccine
A proof of vaccination against yellow fever may be required upon entry in to this country.
Some travellers may not be eligible to receive this vaccine. Please enquire with your health care professional regarding your specific details.
It is important to note that the vaccine should be administered at least 10 days prior to your departure.
For further information, please consult with the World Health Organization (WHO) website:
https://www.who.int/ith/ith-country-list.pdf
RECOMMENDED MEDICATIONS
MEDICAL CARE
Hospital and emergency services in Algeria are not always of good quality, despite the governmental efforts to improve the country's health care system. In urban centers, it is possible to find some well equipped private hospitals, but they are usually not following Western health standards. In rural areas, public hospitals are dilapidated and the medical equipment is archaic. The lack of qualified medical staff and medicine shortages are becoming very serious issues in the county, causing regular strikes and protest movements. Be aware that you will need to pay your consultations in cash, even if you are covered by a health insurance.
If you need an ambulance in Algiers, you can call 02 67 33 33. But the waiting time can be extremely long.
Access to quality medicines can be very poor. It is thus indispensable that you bring your own medical supplies in sufficient quantities.
SECURITY ABROAD
The security situation in these areas is unpredictable.
CANADIAN EMBASSY
Emergency services
In case of emergency, dial:
police: 17
tourist police: 1548
medical assistance: 213 (0) 21-235-050
firefighters: 14