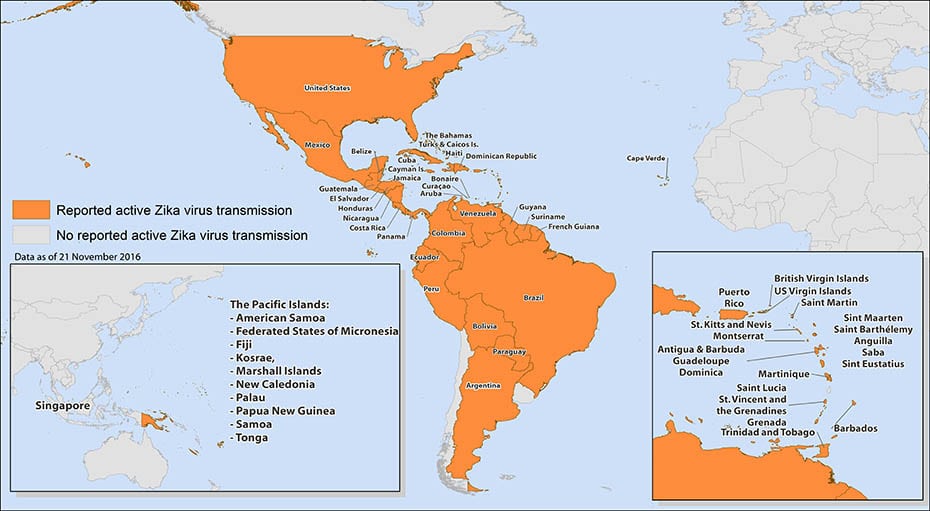 WHAT IS ZIKA VIRUS INFECTION?
Zika is a virus transmitted to humans by the bite of an infected mosquito of the Aedes species. These mosquitoes breed in stagnant waters. They bite in large numbers during the day and feed both indoors and outdoors. The virus can be transmitted from mother to fetus.
WHO IS AT RISK?
Anyone travelling in an area at risk is likely to contract Zika. Given the related fetal complications for pregnant women, pregnant women should postpone travel to at-risk areas whenever possible. If this is not possible, they should minimize their exposure to mosquito bites by wearing light-coloured clothing that covers the skin as much as possible and by putting on a good mosquito repellent containing safe ingredients recognized by Health Canada.
Currently (Updated September 26th 2016), here is the list of countries that have had confirmed cases of Zika virus infection:
North America
Florida
Central, South America & Caribbean
Anguilla
Antigua & Barbuda
Argentina
Aruba
Bahamas
Barbados
Belize
Bolivia
Bonaire
Brazil
British Virgin Islands
Cayman Islands
Colombia
Commonwealth of Puerto Rico, US territory
Costa Rica
Cuba
Curacao
Dominica
Dominican Republic
Ecuador
El Salvador
French Guiana
Grenada
Guadeloupe
Guatemala
Guyana
Haiti
Honduras
Jamaica
Martinique
Mexico
Montserrat
Nicaragua
Palau
Panama
Paraguay
Peru
Saba
Saint Barthélemy
Saint Kitts & Nevis
Saint Lucia
Saint Martin
Saint Vincent and the Grenadines
Sint Eustatius
Sint Maarten
Suriname
Trinidad and Tobago
Turks and Cacos
U.S. Virgin Islands
Venezuela
Pacific Islands
American Samoa
Fiji
Micronesia (FSM)
Marshall Islands
New Caledonia
Papua New Guinea
Samoa
Tonga
Africa
Cape Verde
Asia
Singapore
WHAT ARE THE SIGNS AND SYMPTOMS?
About 1 in 5 people become symptomatic after being infected with Zika. The symptoms are similar to those of Dengue and Chikungunya (which are transmitted by the same type of mosquito). Typical clinical symptoms include fever, rash, joint pain and conjunctivitis. Other reported symptoms include muscle aches and headaches. Symptoms usually last a few days to a week. More serious complications requiring hospitalization are rare and the associated mortality rate is low. It should be noted that cases of Guillain-Barré syndrome have been reported following infection with the Zika virus. The Brazilian Ministry of Health is currently investigating a possible association with the Zika virus and the increase in the number of babies born with a microcephaly (diameter of the skull smaller than normal).
WHAT CAN BE DONE TO PREVENT ZIKA VIRUS INFECTION?
There is no vaccine or medication to prevent Zika. The only way to prevent the virus is to protect yourself from mosquito bites, especially during the day. It is recommended to use insect repellents containing DEET or Picaridin. If you also use sunscreen, put it on first, wait 20 minutes and then apply mosquito repellent. You can also wear light coloured clothing that covers the skin as much as possible. There are also clothes already impregnated with mosquito repellent. For the night, prefer air-conditioned places or use a mosquito net/net impregnated with mosquito repellent to be protected from bites.
HOW IS ZIKA VIRUS INFECTION TREATED?
There is currently no treatment for Zika. Treatments will be directed towards symptoms: rest, hydration, taking analgesics and antipyretics or anti-inflammatory if necessary.
---
We make every effort to ensure that the information posted on our website is up to date and accurate according to the latest public health recommendations; however, it is impossible for us to make changes on a daily basis.
For the most current travel health recommendations, please call our clinic as make an appointment with one of our travel health professionals.