Travelling during the pandemic, good or bad idea?
For travellers, the coronavirus pandemic put a damper on our plans for adventure. As the Covid-19 pandemic progresses, the desire to explore new places is growing. Fortunately, it is still possible to travel and discover new places in 2021, as long as you take the necessary safety precautions.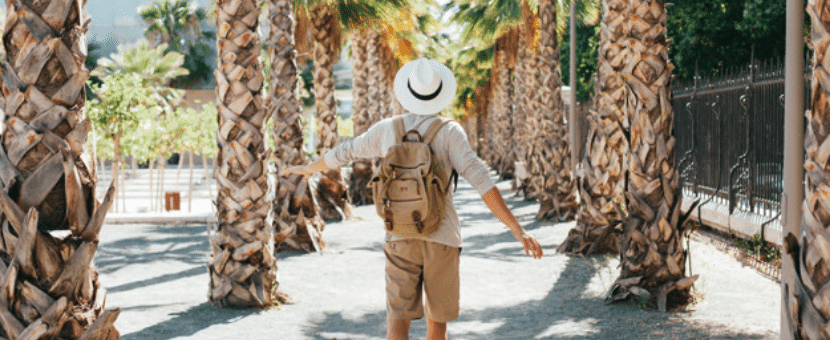 Although the restrictions put in place can slow down many people, some are ready to brave all the requirements needed. Those of you who have received your COVID-19 vaccines have a double advantage; not only are you better protected against COVID-19, and may also experience fewer restrictions when it comes to travel and foreign entry requirements (fewer border restrictions, PCR tests and quarantines). Nevertheless, vigilance is still required when travelling, including wearing a mask in public and respecting social distancing. 
For people who have not been vaccinated against COVID-19, stricter restrictions will apply and greater precautions must be taken when you decide to travel. 
Here are our tips for planning a safe vacation during the COVID-19 pandemic: 
Travelling during the pandemic: Be strategic about choosing your destination 
Travel restrictions are changing rapidly, with some countries reopening their doors to tourists while others are suspending or limiting access to travellers. Since requirements vary from destination to destination and depend (mostly) on your country of origin, it's crucial to be aware of the regulations in your destination country before you book your ticket. There is a lot of information available on the Internet, so be vigilant and always check with the appropriate government authorities once you have chosen your destination. Follow the news and sign up for alerts to be informed of the latest changes related to your country of choice. 
Respect the guidelines
Find out what the rules are before you travel and be prepared to follow them. Masks are currently mandatory for all flights. If you are travelling with children, they will likely need to wear a mask for the duration of the flight as well. Note that most countries require a medical certificate with a negative PCR or antigen test performed within 48-96 hours before departure. Other countries may have stricter rules in place. Some destinations require tourists to be quarantined upon arrival, while others require visitors to install an app to provide certain information prior to arrival. As noted above, some destinations may have different requirements or restrictions depending upon your COVID-19 vaccination status.
Buy travel insurance with COVID-19 protection 
If you are travelling abroad in 2021, you will need COVID-19 travel insurance. It will provide you with the usual protection you need when travelling, but it will also cover COVID-related expenses (tests, hospitalization, early returns, etc.). Beware: not all insurance is created equal. Do your research before purchasing travel insurance. 
Focus on flexible cancellation policies if travelling during the pandemic
Even if you already have travel insurance that covers trip cancellation costs, it's best to book flights and hotels that offer a flexible cancellation policy. In the event of a last-minute cancellation, a flexible policy should allow you to get your deposit back and change your reservation.  
Get your travel vaccines at a travel clinic
Just as the COVID-19 vaccine will give you protection from contracting the virus, there are many other vaccine-preventable illnesses you could encounter on your travels abroad. While Typhoid, Yellow Fever, and Cholera are not illnesses you need to worry about at home, you could be at risk of contracting them during your trip. 
Don't let another illness keep you from enjoying your holiday. Visit our travel clinic Clinique du Voyageur in Montreal, to meet with a travel health nurse and learn how vaccines and preventative medication can help you see the world safely. 
Bring COVID-19 essentials
Remember to bring along several protective masks, hand sanitizer, gloves, a thermometer, ibuprofen and other essentials to comply with local restrictions and to protect yourself against the risk of COVID-19 infection. Almost all countries require masks to be worn in public spaces. 
Respect social distancing
There are many places on your trip where keeping a distance of two meters can be a challenge, however, physical distancing is an effective way to prevent the spread of COVID-19. 
Keep your distance as much as possible throughout your trip. Stay two meters away from the people around you if they are not from your bubble. Safety should be your first priority. 
Be aware of your symptoms before your trip 
Under normal circumstances, having a cold or flu-like symptoms would not be a reason to cancel a trip. However, in today's environment, no chances can be taken. Many airports and transport hubs will check your temperature before allowing you to board. Two weeks before your trip, limit your social interactions to reduce the risk of contracting the virus. 
Travelling during the pandemic: Be flexible 
It's not possible to plan for the unexpected, but do allow for some flexibility, especially during the pandemic. As travel restrictions change, your plans may have to as well. 
Take into account the requirements of the destination country, stay up to date around local outbreaks, and adapt as necessary.  
Organize your return to Canada 
When you return to Canada, follow the protocols issued by the government. Currently, you must have a negative COVID-19 test that is less than 72 hours old and be prepared to start your quarantine in a government-approved hotel. You will be tested again upon arrival so that you can finish your quarantine at home if that test comes back negative. Keep in mind that customs may ask you for your quarantine plan to determine if you are compliant. 
As part of the first phase of reopening the country, the Public Health Agency of Canada has announced the easing of some re-entry requirements for Canadian citizens and permanent residents returning to Canada. Beginning July 5, 2021, fully vaccinated travellers who are permitted to enter Canada will not be required to stay at a government-authorized hotel. Further to that, fully vaccinated Canadians will not be subject to the federal requirement to quarantine or take a COVID-19 test on day-8. They will still be required to have a PCR test prior to their return to Canada, and another COVID test upon arrival. Read the press release. 
As a reminder, all travellers are responsible for their travel, including possession of the necessary documents. Travellers must also comply with any government guidelines or other requirements in effect before, during and after their trip – whether they are travelling within or outside of Canada.