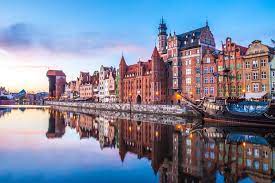 Poland has seen its territory dismantled for more than a century, before going through the horror of World War II and decades of totalitarianism communism. All these tragic events have deeply hurt the country. But today Poland is stronger than ever and its economy is quickly growing. Contemporary Poland is a contrast between vibrant modern cities and remote villages where people still live in a simple rural way. But there is something common to all Polish people : their incredible religious fervor, which certainly helped them to overcome all the ordeals they have endured. Culturally rich and naturally beautiful, Poland is a charming country to visit.
HEALTH INFORMATION
We make every effort to ensure that the information posted on our website is up to date and accurate according to the latest public health recommendations; however, it is impossible for us to make changes on a daily basis.
For the most current travel health recommendations, please call our clinic as make an appointment with one of our travel health professionals.
POLAND – RECOMMENDED VACCINES
| | |
| --- | --- |
| Hepatitis A | Recommended for all travelers. |
| Hepatitis B | Recommended for all travelers. |
| Tetanus – Diphteria – Pertussis Vaccine | Tetanus: In exceptional circumstances (eg, stay in a region where access to health care is limited), for a person aged 18 years or older, 1 dose of DT may be given if 5 years or more has elapsed since the last dose. Otherwise, one booster dose at the age of 50*. Pertussis (Whooping Cough):  1 dose is recommended for pregnant women, for every pregnancy, regardless of immunization history and the interval since the last dose (betwen week 26 and 32). *Only applicable for Quebec. |
| Measles – Rubella – Mumps | Two doses recommended for all travelers born after 1970, if not previously given. |
| Rabies | For travelers at high risk of animal bites or being involved in activities with bats. Clients who plan to visit remote areas may consider receiving this vaccine. Important to note the pre-exposure rabies vaccine is administered in 2 doses with one week interval between doses. Post-exposure vaccination is always recommended, even for those previously vaccinated. |
| Typhoid fever | Recommended for travelers who plan to stay and eat outside the main hotels and restaurants. |
| Flu – Influenza | Seasonal influenza occurs worldwide. The flu season usually runs from November to April in the northern hemisphere, between April and October in the southern hemisphere and year round in the tropics. Influenza (flu) is caused by a virus spread from person to person through coughing and sneezing or by touching infected surfaces. Everyone 6 months and older should get a flu vaccine yearly. Vaccine is recommended 14 days prior to departure. |
MEDICAL CARE
Basic health care is of satisfying quality in Poland. Doctors are usually well trained and competent, but public hospitals in Poland lack adequate equipment. It is good to know that it is possible to find high quality medical care in the private hospitals and clinics located in the main cities, like the Lux Med Ltd Clinic, the LIM Medical Center and the Damian Medical Center (all located in Warsaw, the capital city). But in the event of serious sickness or injury requiring very specific treatments, the patient has to be evacuated to another country.
In case of emergency in Poland, call 999. Be aware that waiting times can be long in rural and remote areas. It is also possible to contact private ambulance services at 200 0100 (Falck), 0 801 80 08 08 (LuxMed) or 96 77 (Medicover).
Numerous pharmacies are found in Poland. They are selling quality medicines following European standards and coming from Western Europe and North America. But it is always safer to bring your own basic medical kit and the specific treatments you could require while traveling in Poland.
SECURITY ABROAD
The rate of violent crime, for example, mugging and carjacking, in Poland is generally low. However, petty crime, such as pickpocketing and purse snatching, occurs, mostly in larger cities.
CANADIAN EMBASSY
Emergency services
Dial 112 for emergency assistance.