Korea, North (DPRK)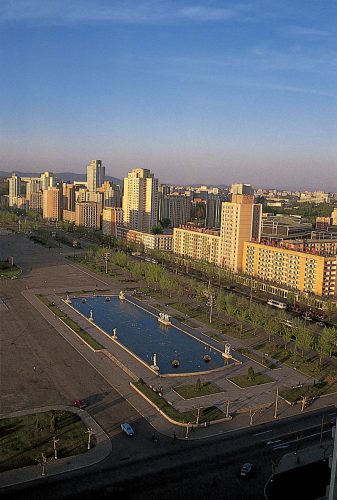 The Democratic Republic of North Korea is certainly the weirdest tourist destination in the world! This repressive East Asian police state is the most militarized country on the planet and strictly manages its population with an iron fist. Most of the people wouldn't even imagine that tourism is possible in North Korea. It is possible though, but the visitors are as managed as the local citizens. Tourists must be accompanied at all time by at least two governments minders and one interpreter. They are carefully kept away from North Korean people and are only given a very biased and narrow vision of the country.
HEALTH INFORMATION
We make every effort to ensure that the information posted on our website is up to date and accurate according to the latest public health recommendations; however, it is impossible for us to make changes on a daily basis.
For the most current travel health recommendations, please call our clinic as make an appointment with one of our travel health professionals.
KOREA, NORTH (DPRK) – RECOMMENDED VACCINES
The Yellow Fever Vaccine
A proof of vaccination against yellow fever may be required upon entry in to this country.
Some travellers may not be eligible to receive this vaccine. Please enquire with your health care professional regarding your specific details.
It is important to note that the vaccine should be administered at least 10 days prior to your departure.
For further information, please consult with the World Health Organization (WHO) website:
https://www.who.int/ith/ith-country-list.pdf
Hepatitis A
Recommended for all travelers.
Hepatitis B
Recommended for all travelers.
Causes, Symptoms & Treatment – Typhoid fever
Recommended for all travelers.
Flu – Influenza
Seasonal influenza occurs worldwide. The flu season usually runs from November to April in the northern hemisphere, between April and October in the southern hemisphere and year round in the tropics. Influenza (flu) is caused by a virus spread from person to person through coughing and sneezing or by touching infected surfaces. Everyone 6 months and older should get a flu vaccine yearly. Vaccine is recommended 14 days prior to departure.
Information, Advice & Vaccination – Japanese Encephalitis
Recommended for the following groups visiting certain remote areas:

Long-term travelers (i.e. trips lasting a month or more) to endemic areas during the Japanese encephalitis virus transmission season.
Short-term (<1 month) travelers to endemic areas during the Japanese encephalitis virus transmission season if their activities will increase their risk (e.g. spending substantial time outdoors or staying in accommodations without air conditioning, screens, or bed nets.)

Routine vaccines (dCaT, Polio, Meningococcal, Shingles, Pneumococcal, Hepatitis B, HPV, MMR & Varicella)
Recommended for all travelers
Lyme disease
Presence. All travellers should protect themselves against tick bites.
Tick-borne Encephalitis
Could be present. All travellers should protect themselves against tick bites.
Transmission, Symptoms and Prevention – Rabies
For travelers at high risk of animal bites or being involved in activities with bats, dogs and other mammals. Clients who plan to visit remote areas may consider receiving this vaccine. Important to note the pre-exposure rabies vaccine is administered in 2 doses with one week interval between doses. Post-exposure vaccination is always recommended, even for those previously vaccinated.
Cholera
Vaccine recommended for persons traveling to an area of active transmission. Most people do not travel to areas of active cholera transmission.
Turista – Traveler's Diarrhea (ETEC)
Talk to your health care professional about the risks and precautionary measures to take, as well as the Dukoral® vaccine. Important to note that the Dukoral vaccine is an oral vaccine given in 2 doses, recommended at least 2 weeks prior to departure.
Malaria
Malaria is present in this country. The risk may be region specific. Prophylaxis measures to be discussed with the health care professional.
RECOMMENDED MEDICATIONS
MEDICAL CARE
Access to medical care, even the most basic, is extremely limited in North Korea, and the care provided is of very poor quality. The country severely lacks trained medical personnel and medicines, while the medical infrastructure is rudimentary and the medical equipment obsolete. Note that public health care in North Korea is free. The best medical care you can find in the country is provided by a few private hospitals, like the Friendship Hospital in Pyongyang. This clinic has emergency surgical care services. But don't expect good quality care. In the event of medical complications or a serious injury, an air evacuation to another country is indispensable. Be aware that medical facilities don't accept payment by credit card in North Korea.
In case of emergency, call 819.
Quality medicines are not easily accessible in North Korea, so be sure to bring a complete medical kit.
SECURITY ABROAD
Canadian (and Swedish) authorities may encounter major difficulties and delays in obtaining consular access to you if you are detained, particularly outside of Pyongyang. The provision of consular access is solely at the discretion of the North Korean government. Knowledge of North Korean police and …
CANADIAN EMBASSY
Emergency services
There is no centralized number to reach emergency services. Research and carry contact information for local police and medical facilities.