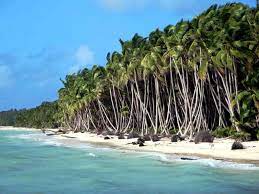 Cocos (Keeling) Islands
The last unspoiled paradise of Australia lies in the azure waters of the Indian Ocean, embraced by the sun and caressed by the scented trade winds. The territory of the Cocos Islands (Keeling), also called Cocos Islands, is a territory of Australia, southwest of Christmas Island and halfway between Australia and Sri Lanka.
Located 2750 km northwest of Perth, Western Australia, the Cocos Keeling Islands are a group of coral islands that form two atolls. Only two of the 27 islands are inhabited – the rest awaits you to explore them.
---
The archipelago has two distinct types of precipitation between the rainy season and the dry season. The wettest month is April, with a total precipitation of 250.0 millimeters (9.84 in), while the driest month is October and precipitation is 50.9 millimeters (2.00 inches).
The temperature varies a bit like its location away from the equator.
The warmest month is March with a high average temperature of 29.8 ° C (85.6 ° F), while the coolest month is August with a low average temperature 23.6 ° C (74.5 ° F).
Offering a spectacular world class dive, excellent fishing site and adrenaline kitesurfing, the Keeling Cocos Islands are also a deeply tranquil holiday spot. Relax on deserted beaches, visit the uninhabited canoe islands, watch birds or catch the ferry to Home Island and discover the culture and traditions of the Cocos Malaysian people.
HEALTH INFORMATION
Home Island and West Island have medical clinics providing basic health services, but serious medical conditions and injuries cannot be treated on the island and patients are sent to Perth for treatment.
We make every effort to ensure that the information posted on our website is up to date and accurate according to the latest public health recommendations; however, it is impossible for us to make changes on a daily basis.
For the most current travel health recommendations, please call our clinic as make an appointment with one of our travel health professionals.
COCOS (KEELING) ISLANDS – RECOMMENDED VACCINES
The Yellow Fever Vaccine
A proof of vaccination against yellow fever may be required upon entry in to this country.
Some travellers may not be eligible to receive this vaccine. Please enquire with your health care professional regarding your specific details.
It is important to note that the vaccine should be administered at least 10 days prior to your departure.
For further information, please consult with the World Health Organization (WHO) website:
https://www.who.int/ith/ith-country-list.pdf
Hepatitis A
Recommended for all travelers.
Tetanus – Diphteria – Pertussis Vaccine
Tetanus: In exceptional circumstances (eg, stay in a region where access to health care is limited), for a person aged 18 years or older, 1 dose of DT may be given if 5 years or more has elapsed since the last dose.
Otherwise, one booster dose at the age of 50*.
Pertussis (Whooping Cough):  1 dose is recommended for pregnant women, for every pregnancy, regardless of immunization history and the interval since the last dose (betwen week 26 and 32).
*Only applicable for Quebec.
Measles – Rubella – Mumps
Two doses recommended for all travelers born after 1970, if not previously given.
Flu – Influenza
Seasonal influenza occurs worldwide. The flu season usually runs from November to April in the northern hemisphere, between April and October in the southern hemisphere and year round in the tropics. Influenza (flu) is caused by a virus spread from person to person through coughing and sneezing or by touching infected surfaces. Everyone 6 months and older should get a flu vaccine yearly. Vaccine is recommended 14 days prior to departure.
Routine vaccines (dCaT, Polio, Meningococcal, Shingles, Pneumococcal, Hepatitis B, HPV, MMR & Varicella)
Recommended for all travelers
Causes, Symptoms & Treatment – Typhoid fever
Recommended for most travelers, especially those who are staying with friends or relatives; visiting smaller cities, villages, or rural areas where exposure might occur through food or water; or prone to "adventurous eating"
Hepatitis B
Consider for most travelers; recommended for those who might be exposed to blood or other body fluids, have sexual contact with the local population, or be exposed through medical treatment (e.g., for an accident).
Chikungunya
Presence. All travellers should protect themselves from mosquito bites.
Turista – Traveler's Diarrhea (ETEC)
Talk to your health care professional about the risks and precautionary measures to take, as well as the Dukoral® vaccine. Important to note that the Dukoral vaccine is an oral vaccine given in 2 doses, recommended at least 2 weeks prior to departure.
RECOMMENDED MEDICATIONS
SECURITY ABROAD
The data on this country are not available.