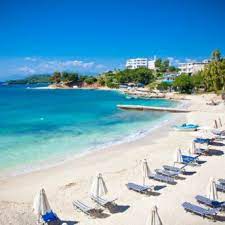 The former communist country of Albania, located in Southeastern Europe, is finally getting all the attention it deserves. The natural beauty of Albania is stunning. From its sublime coastline to breathtaking mountainous landscapes, the country offers numerous and diverse natural wonders : lakes, rivers, waterfalls, springs, canyons, beaches… Several World Heritage sites bear witness to the Roman and Ottoman past of the country. Experience Tirana, the vibrant capital, before visiting small remote rural villages, where time seems to have stopped a few decades ago. Discover the rich culture and the traditional way of life of their inhabitants, and don't miss the wonderful taste of Albanian cuisine.
---
HEALTH INFORMATION
We make every effort to ensure that the information posted on our website is up to date and accurate according to the latest public health recommendations; However, it is impossible for us to make updates on a daily basis.
For the most current travel health recommendations, please call our clinic to make an appointment with one of our travel health professionals.
ALBANIA – RECOMMENDED VACCINES
Hepatitis A
Recommended for all travelers.
Tetanus – Diphteria – Pertussis Vaccine
Tetanus: In exceptional circumstances (eg, stay in a region where access to health care is limited), for a person aged 18 years or older, 1 dose of DT may be given if 5 years or more has elapsed since the last dose. Otherwise, one booster dose at the age of 50*. Pertussis (Whooping Cough):  1 dose is recommended for pregnant women, for every pregnancy, regardless of immunization history and the interval since the last dose (betwen week 26 and 32). *Only applicable for Quebec.
Measles – Rubella – Mumps
Two doses recommended for all travelers born after 1970, if not previously given.
Flu – Influenza
Seasonal influenza occurs worldwide. The flu season usually runs from November to April in the northern hemisphere, between April and October in the southern hemisphere and year round in the tropics. Influenza (flu) is caused by a virus spread from person to person through coughing and sneezing or by touching infected surfaces. Everyone 6 months and older should get a flu vaccine yearly. Vaccine is recommended 14 days prior to departure.
Routine vaccines (dCaT, Polio, Meningococcal, Shingles, Pneumococcal, Hepatitis B, HPV, MMR & Varicella)
Recommended for all travelers
Hepatitis B
Consider for most travelers; recommended for those who might be exposed to blood or other body fluids, have sexual contact with the local population, or be exposed through medical treatment (e.g., for an accident).
Tick-borne Encephalitis
Presence. All travellers should protect themselves against tick bites.
Lyme disease
Presence. All travellers should protect themselves against tick bites.
Rabies
For travelers at high risk of animal bites or being involved in activities with bats, dogs and other mammals. Clients who plan to visit remote areas may consider receiving this vaccine. Important to note the pre-exposure rabies vaccine is administered in 2 doses with one week interval between doses. Post-exposure vaccination is always recommended, even for those previously vaccinated.
The Yellow Fever Vaccine
A proof of vaccination against yellow fever may be required upon entry in to this country. Some travellers may not be eligible to receive this vaccine. Please enquire with your health care professional regarding your specific details.

It is important to note that the vaccine should be administered at least 10 days prior to your departure.

For further information, please consult with the World Health Organization (WHO) website: https://www.who.int/ith/ith-country-list.pdf
MEDICAL CARE
Albania has some well-equipped hospital centers and private clinics in Tirana, offering quality care following Western health standards. The Universal Hospital Tirana and the ABC Clinic are two of them. The private American, German, Italian and Greek Hospitals can also be quoted. But in the countryside, medical facilities are not reliable and frequently lack medicines and specific medical equipment. Note that consultations and treatments have to be paid in cash.
Tirana's ambulance services are accessible 24 hours a day, but they can sometimes be of poor quality. Access to air ambulance services is very limited.In cases of trauma or emergencies, transfers to neighbouring Greece might be necessary for more competent medical care.
The albanian government requires that all pharmacies be licensed. It is possible to buy medicines without a medical prescription in local pharmacies, but be aware that pharmaceutical products don't undergo rigorous quality controls. It is generally recommended to bring a first aid kit and all the medicines you could need, as some medications may be hard to find in Albania.
SECURITY ABROAD
Until 2014, the city of Lazarat and its surrounding areas was a major marijuana producing region where violent clashes between police and marijuana producers occurred regularly. Although the situation has recently improved, police assistance and protection remains limited, and response times are …
CANADIAN EMBASSY
Emergency services
In case of emergency, dial 112:
Other emergency services:
police: 129
medical assistance: 127
firefighters: 128