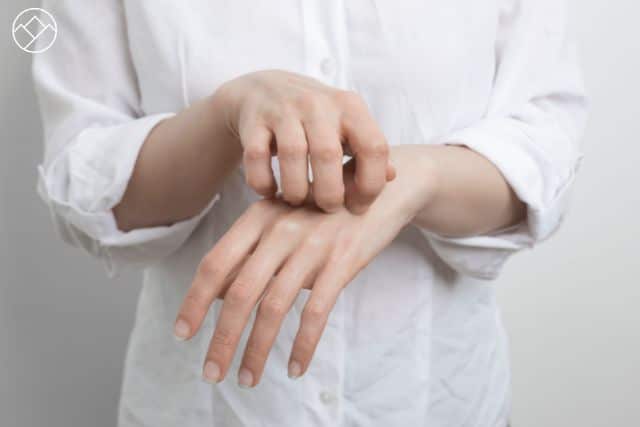 WHAT IS SCABIES ?
Scabies is an infection of the skin, characterized by intense itching and a skin rash composed of small red bumps. It is caused by itch mites and it is transmitted through direct and prolonged contact with the skin of an infected person. Quick contact, like a handshake or a hug, usually doesn't result in the transmission of scabies. The infection is more likely to be spread to the sexual partners of a victim and to the people who are living with an infected person. 
The hardly bearable itch caused by scabies forces the affected persons to frequently scratch themselves. This results in skin lesions, which can get infected and provoke serious secondary infections like septicemia, heart diseases and chronic kidney illnesses. 
WHAT IS THE RISK FOR TRAVELERS ?
Scabies can occur worldwide and affect all the social classes. But the disease is more prevalent in developing countries and in tropical regions. All the international travelers are potentially at risk for the disease, especially if they frequent crowded places, large hospitals, schools and prisons in a country highly affected by scabies.
HOW TO PREVENT SCABIES ?
No vaccine or effective medicine to prevent scabies is currently available. To avoid being affected by the disease while traveling, it is essential that you always have a good personal hygiene. Avoid skin-to-skin contact with infected (or suspected of being infected) persons and never use their clothes and their bedding. 
WHAT TO DO IF YOU ARE INFECTED WITH SCABIES ?
If you experience symptoms of scabies while traveling (or after you returned to your home country), you should see a doctor as soon as possible. He/She will prescribe you a treatment. Your entourage should follow the same treatment, even if they don't show any sign of scabies. Remain isolated to avoid the transmission of the infection. Wash all the clothing and the bedding that you used in the three days preceding the beginning of your treatment. These items should be washed in a washing machine at a hot temperature and dried in a very hot dryer. They can also be dry-cleaned. 
---
We make every effort to ensure that the information posted on our website is up to date and accurate according to the latest public health recommendations; however, it is impossible for us to make changes on a daily basis.
For the most current travel health recommendations, please call our clinic as make an appointment with one of our travel health professionals.