HAND, FOOT AND MOUTH DISEASE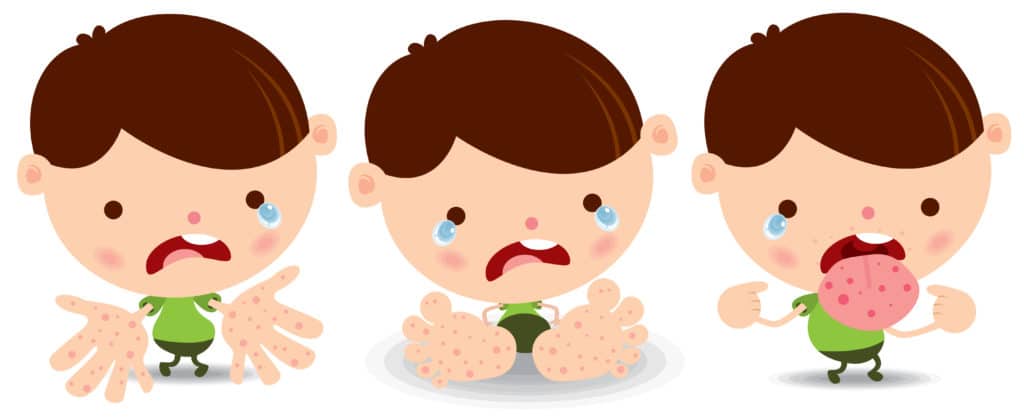 WHAT IS HAND, FOOT AND MOUTH DISEASE ?
Hand, Foot and Mouth disease (HRMD) is a contagious disease caused by various viruses belonging to the Enteroviruses group. This group includes different types of viruses, like polioviruses, coxsackieviruses and echoviruses. The disease is mainly affecting infants and young children under the age of 5 years old, but adults can get infected too. It is a minor illness and the victims usually fully recover in less than ten days.
The symptoms of HFMD include a fever, painful sores in the mouth and skin rash. It is transmitted through the air (through coughing and sneezing) or through contact with the nose and throat secretions of an infected person. Contact with infected feces or with surfaces and items which have been contaminated with HFMD viruses can also result in the transmission of the disease, as well as close contact with infected people (such as hugging and kissing).
WHAT IS THE RISK FOR TRAVELERS ?
HFMD viruses are present all over the world. But the disease is especially affecting Asia, where large outbreaks regularly occur. In temperate climate, the disease is more common during summer and fall. All the travelers are potentially at risk for HFMD, especially the young children who may accompany them. 
HOW TO PREVENT HFMD ?
There is currently no vaccine or effective medicine to prevent HFMD. Thus, it is important that you follow some prevention measures while traveling to avoid being affected by the disease, especially if you go to Asia.
Always have good hygiene practices. Regularly wash your hands with clean water and soap, or with an alcohol-based hand sanitizer. This is especially important before preparing food, eating and feeding children, or after changing a diaper and going to the bathroom. Never touch your eyes, your nose and your mouth without washing your hands first. When sneezing or coughing, cover your mouth and nose with a disposable tissue. Throw the tissue in a bin right after use.
Avoid close contact with other people, such as hugging and kissing, especially with the persons who appear to be sick.
Never share eating utensils and cups with people who are potentially infected with HFMD.
Regularly wash and disinfect the surfaces and items which may have been contaminated by an infected person. Use clean water and soap to wash, and household bleach or any other adequate disinfecting agent to disinfect.
WHAT TO DO IN CASE OF AN INFECTION WITH HFMD ?
If you experience mouth sores and you think that you may be infected with HFMD, you must see a doctor as soon as possible. There is no specific treatment to cure the disease, but some drugs can help to relieve the symptoms. You can use over-the-counter medicines to ease the pain and the fever, as well as mouthwashes and sprays to numb the pain in your mouth. While you are sick, drink a lot of water to avoid dehydration. Remain isolated until complete recovery. 
---
We make every effort to ensure that the information posted on our website is up to date and accurate according to the latest public health recommendations; however, it is impossible for us to make changes on a daily basis.
For the most current travel health recommendations, please call our clinic as make an appointment with one of our travel health professionals.