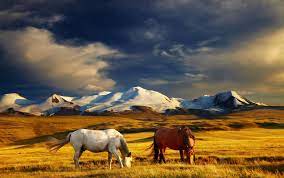 Mongolia
Mongolia has been isolated from the rest of the world during most of the past century. The Central Asian country has now opened its doors and is a natural jewel to discover. From vast steppes to rugged mountains speckled with emerald-blue lakes, Mongolia's spectacular wild landscapes are of unparalleled beauty. Nomad people still live in a traditional way, traveling the grandeur of their country on the back of their inseparable horses with their herds of livestock. But the contemporary Mongolia is also an economically growing country, with a modern capital city. Mongolia remains reserved to genuine adventurers, but will reward its visitors with a trip of a lifetime.
HEALTH INFORMATION
We make every effort to ensure that the information posted on our website is up to date and accurate according to the latest public health recommendations; however, it is impossible for us to make changes on a daily basis.
For the most current travel health recommendations, please call our clinic as make an appointment with one of our travel health professionals.
MONGOLIA – RECOMMENDED VACCINES
Hepatitis A
Recommended for all travelers.
Hepatitis B
Recommended for all travelers.
Causes, Symptoms & Treatment – Typhoid fever
Recommended for all travelers.
Tetanus – Diphteria – Pertussis Vaccine
Tetanus: In exceptional circumstances (eg, stay in a region where access to health care is limited), for a person aged 18 years or older, 1 dose of DT may be given if 5 years or more has elapsed since the last dose.
Otherwise, one booster dose at the age of 50*.
Pertussis (Whooping Cough):  1 dose is recommended for pregnant women, for every pregnancy, regardless of immunization history and the interval since the last dose (betwen week 26 and 32).
*Only applicable for Quebec.
Measles – Rubella – Mumps
Two doses recommended for all travelers born after 1970, if not previously given.
Flu – Influenza
Seasonal influenza occurs worldwide. The flu season usually runs from November to April in the northern hemisphere, between April and October in the southern hemisphere and year round in the tropics. Influenza (flu) is caused by a virus spread from person to person through coughing and sneezing or by touching infected surfaces. Everyone 6 months and older should get a flu vaccine yearly. Vaccine is recommended 14 days prior to departure.
Routine vaccines (dCaT, Polio, Meningococcal, Shingles, Pneumococcal, Hepatitis B, HPV, MMR & Varicella)
Recommended for all travelers
Tick-borne Encephalitis
Presence. All travellers should protect themselves against tick bites.
Lyme disease
Presence. All travellers should protect themselves against tick bites.
Transmission, Symptoms and Prevention – Rabies
For travelers at high risk of animal bites or being involved in activities with bats, dogs and other mammals. Clients who plan to visit remote areas may consider receiving this vaccine. Important to note the pre-exposure rabies vaccine is administered in 2 doses with one week interval between doses. Post-exposure vaccination is always recommended, even for those previously vaccinated.
Cholera
Vaccine recommended for persons traveling to an area of active transmission. Most people do not travel to areas of active cholera transmission.
Turista – Traveler's Diarrhea (ETEC)
Talk to your health care professional about the risks and precautionary measures to take, as well as the Dukoral® vaccine. Important to note that the Dukoral vaccine is an oral vaccine given in 2 doses, recommended at least 2 weeks prior to departure.
RECOMMENDED MEDICATIONS
MEDICAL CARE
Medical care in Mongolia is extremely limited and rudimentary outside of Ulaanbaatar, the capital city. If you require medical assistance while traveling in Mongolia, you are advised to go to the SOS Medica Mongolia hospital center. It is the most modern medical facility in the country, located near the airport in Ulaanbaatar. You can reach this establishment at 976 11 345527. You can also go to the Hospital Number 2, also in the capital city. In case of serious sickness or injury, an evacuation to another country is required.
In case of emergency in Mongolia, you can reach the SOS Medica Mongolia emergency services at 976 11 345526.
Access to medicines is also very limited outside of the capital city. It is thus essential that you bring your own drugs and medical supplies when traveling to the country.
SECURITY ABROAD
Foreigners have been targeted by street crime, especially in Ulaanbaatar and other major cities and in tourist areas. Cases of assault and robbery significantly increase in Ulaanbaatar in the weeks leading up to and during major holidays, including the Naadam Festival in July, the Mongolian Lunar New Year (February 5-7, 2019) and International …
CANADIAN EMBASSY
Emergency services
In case of emergency, dial:
police: 102
medical assistance: 103
firefighters: 101