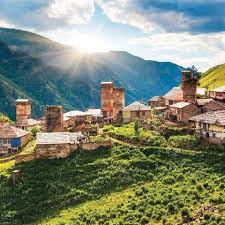 Georgia
Georgia lies at the crossroads of Western Asia and Eastern Europe, in the Caucasus region. Mostly mountainous, the country is dotted with magnificent perched old churches, watchtowers and cave cities, bearing witness to the rich past of this strategically located nation. From majestic glaciers to volcanic plateaus, dense forests and low-land swamps, the scenery in Georgia is always breathtaking. The country's picturesque old green valleys planted with vineyards are thought to be the birthplace of wine. Add to this a delicious cuisine and a high sense of hospitality, and you have a perfect travel destination, where a warm welcome is always guaranteed!
---
HEALTH INFORMATION
We make every effort to ensure that the information posted on our website is up to date and accurate according to the latest public health recommendations; however, it is impossible for us to make changes on a daily basis.
For the most current travel health recommendations, please call our clinic as make an appointment with one of our travel health professionals.
GEORGIA – RECOMMENDED VACCINES
Hepatitis A
Recommended for all travelers.
Hepatitis B
Recommended for all travelers.
Tetanus – Diphteria – Pertussis Vaccine
Tetanus: In exceptional circumstances (eg, stay in a region where access to health care is limited), for a person aged 18 years or older, 1 dose of DT may be given if 5 years or more has elapsed since the last dose.
Otherwise, one booster dose at the age of 50*.
Pertussis (Whooping Cough):  1 dose is recommended for pregnant women, for every pregnancy, regardless of immunization history and the interval since the last dose (betwen week 26 and 32).
*Only applicable for Quebec.
Measles – Rubella – Mumps
Two doses recommended for all travelers born after 1970, if not previously given.
Transmission, Symptoms and Prevention – Rabies
For travelers at high risk of animal bites or being involved in activities with bats. Clients who plan to visit remote areas may consider receiving this vaccine. Important to note the pre-exposure rabies vaccine is administered in 2 doses with one week interval between doses. Post-exposure vaccination is always recommended, even for those previously vaccinated.
Flu – Influenza
Seasonal influenza occurs worldwide. The flu season usually runs from November to April in the northern hemisphere, between April and October in the southern hemisphere and year round in the tropics. Influenza (flu) is caused by a virus spread from person to person through coughing and sneezing or by touching infected surfaces. Everyone 6 months and older should get a flu vaccine yearly. Vaccine is recommended 14 days prior to departure.
Routine vaccines (dCaT, Polio, Meningococcal, Shingles, Pneumococcal, Hepatitis B, HPV, MMR & Varicella)
Recommended for all travelers
Tick-borne Encephalitis
Presence. All travellers should protect themselves against tick bites.
Lyme disease
Presence. All travellers should protect themselves against tick bites.
Turista – Traveler's Diarrhea (ETEC)
Talk to your health care professional about the risks and precautionary measures to take, as well as the Dukoral® vaccine. Important to note that the Dukoral vaccine is an oral vaccine given in 2 doses, recommended at least 2 weeks prior to departure.
RECOMMENDED MEDICATIONS
MEDICAL CARE
The primary medical care provided by Georgia's hospitals is of poor quality, especially since the health care system in the country has been privatized. The public medical facilities are facing lacks of adequate equipment and qualified medical staff. Despite governmental efforts to provide free quality health care to the local population, access to medical care remains limited in Georgia. The following medical centers are advised to travelers : the MediClub (www.mcg.com.ge), the David Tatishvili Medical Center and the IMSS, all located in Tbilisi, or the MEDEX in Augusta.
If you need an ambulance, you can call public emergency services in Tbilisi at (03) 94-03-03, 44-03-03. For a private ambulance, call (995 599) 581 991.
Access to medicines can be limited in Georgia. Be aware that syringes and antibiotics are especially difficult to find in the country. Be sure to bring a complete medical set with you.
SECURITY ABROAD
Tensions are high in both breakaway regions. Unexploded ordnance, landmines and explosions may pose a risk in those parts of Abkhazia and South Ossetia where military operations have occurred.
CANADIAN EMBASSY
Emergency services
In case of emergency, dial:
police: 022
medical assistance: 099