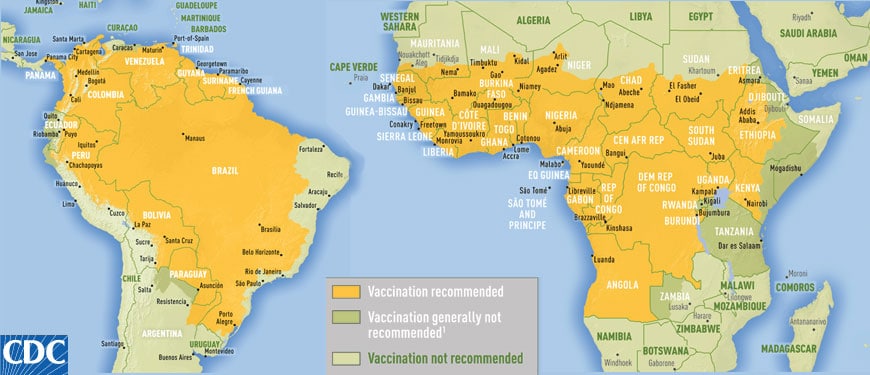 WHAT IS YELLOW FEVER ?
Yellow fever is an acute viral hemorrhagic disease, which is transmitted through the bite of a contaminated mosquito. The disease has an incubation period of 3 to 6 days.
The symptoms of yellow fever include a fever, chills, headaches, back ache, loss of appetite, nausea, vomiting and muscular pain. Most of the persons infected with yellow fever recover after 3 to 4 days. But 15% of the affected people experience a second phase of the disease, more toxic, in the 24 hours following the initial recovery. Fever returns and severe symptoms appear, such as bleeding from the mouth, the nose, the eyes and the stomach, a jaundice, abdominal pain, vomiting and renal failure. At this stage, blood is usually observed in the vomit and in the feces of the victim. Half of the persons experiencing this toxic phase die within 10 to 14 days. The rest of the people recover with no severe organ damages.
WHAT IS THE RISK FOR TRAVELERS ?
Every year, 200 000 cases of yellow fever are reported in the world, including 30 000 deaths, most of them occurring in Africa. Yellow fever is endemic in 31 countries in Africa and in 13 countries in Latin America (in Bolivia, in Brazil, in Colombia, in Ecuador and in Peru notably). In Asia, no cases of yellow fever have been reported. In North America and in Europe, outbreaks have occurred in the past centuries, but these areas are free of yellow fever nowadays. All the travelers going to a country at risk may be infected by the disease.
Countries with risk of yellow fever transmission and countries requiring yellow fever vaccination (WHO) >>
HOW TO PREVENT YELLOW FEVER ?
There is a vaccine for yellow fever. If you are traveling to a country where the disease is endemic, you must consider it. See a doctor prior to your departure, he/she will help you to know if you need the vaccine. Note that some countries (even if they are not affected by the disease) require a proof of vaccination against yellow fever before they grant travelers an entry visa, to prevent the importation of the yellow fever virus on their territory.
In addition to the vaccine, you must protect yourself efficiently against mosquito bites while traveling.
Wear protective clothes, such as long pants, long-sleeved shirts and hats.
Apply mosquito repellent on exposed skin. You should preferably use a repellent offering long lasting protection and containing a high percentage of active ingredients, such as DEET, Picaridin or IR3535. Use repellents carefully and always follow product instructions. In particular, avoid applying repellent in your eyes, in your mouth and on your hands. You can combine sunscreen and insect repellent, just apply the sunscreen first.
For optimal protection, use Permethrin-treated clothing and gear. You can purchase pre-treated items in specialized shops, but you can also treat your own clothes and equipment, such as pants, socks, boots and tents. Handle Permethrin with caution and avoid any direct contact with your skin. Permethrin remains effective, even after several washes.
Stay in air-conditioned environments whenever possible.
Always sleep under a mosquito net, especially if your room is exposed outdoors or if you sleep outside.
WHAT TO DO IF YOU ARE BITTEN BY A MOSQUITO ?
If you are bitten by a mosquito, avoid scratching the affected area. Apply immediately hydrocortisone cream or calamine lotion to reduce the itch.
IF YOU FEEL SICK :
If you feel sick after visiting a country at risk for yellow fever, you must see a doctor as soon as possible, especially if you have a fever. Inform him/her of the places you have visited and of your activities there.
CANADA-WIDE SHORTAGE IN YELLOW FEVER VACCINE (YF-VAX) UPDATE MAY 2017:
There is currently an ongoing, Canada-wide shortage in the supply of the only available vaccine against Yellow Fever (YF-VAX).  The supplier of the vaccine has informed us that the shortage will be in effect until at least the end of December 2018.
The Greater Montreal Travel Clinic, like all Yellow Fever Vaccination Centers designated by the Public Health Agency of Canada, will receive a limited, allocated supply of the vaccine each month. To optimize our managment of the supply, we have centralized all of our allocated supply to our clinic in downtown Montreal, on Beaver Hall.
The doses generally arrive at the beginning of each month and will be dispensed on a first-come- first- served basis. Unfortunately, it will not be possible to put aside or reserve doses. We apologize for any incovenience that this may cause.
This shortage is widespread and is not within our control.
We make every effort to ensure that the information posted on our website is up to date and accurate according to the latest public health recommendations; however, it is impossible for us to make changes on a daily basis.
For the most current travel health recommendations, please call our clinic as make an appointment with one of our travel health professionals.