CORONAVIRUS MIDDLE EAST RESPIRATORY SYNDROME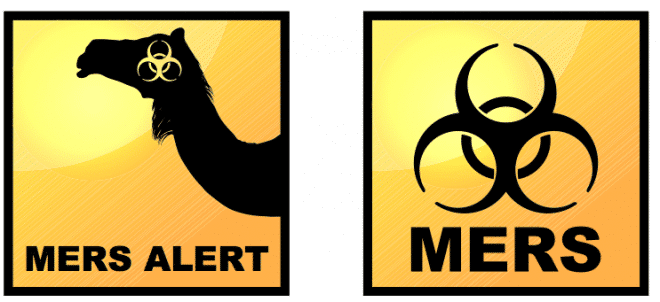 WHAT'S THAT? 

MERS is a virus that affects the respiratory system. Most people with MERS develop a fever, cough and shortness of breath. In some cases, the patient may have gastrointestinal problems such as diarrhea and vomiting. In the most severe cases, he may develop pneumonia or kidney failure.
The virus is transmitted through infected respiratory secretions, such as coughing and sneezing. The incubation period for the disease is 14 days. About 3-4 out of 10 people who have been affected by the MERS have died, it should be noted that these cases are also related to pre-existing medical conditions.
The virus can reach people of all ages. So far, all cases of MERS have been linked to Middle Eastern countries as well as South Korea.
WHO IS AT RISK?

All travellers to a country in and around the Middle East: Bahrain, Iraq, Iran, Israel, Gaza, Jordan, Kuwait, Lebanon, Oman, Qatar, Saudi Arabia, Syria, United Arab Emirates, Yemen, as well as those travelling to South Korea.
HOW TO PROTECT YOURSELF?

There are no vaccines or drugs to prevent this virus. The only means of prevention are listed below:
Wash your hands frequently with soap and water and help young children do the same. If you do not have access to soap and water, disinfect your hands with a disinfectant containing alcohol.
Cover your nose and mouth with a tissue or the crease of your elbow when you cough or sneeze.
Avoid touching your eyes, nose and mouth or only when your hands are clean.
Avoid close contact with potentially sick people by not kissing them or sharing your utensils/glasses with them.
Clean and disinfect surfaces and objects such as door handles or telephone handsets regularly.
Avoid contact with animals that may be sick. Always eat well-cooked meats only.
Since the virus has been identified in some camels, it is strongly recommended to avoid contact with camels, drink camel milk or urine or eat their meat, especially if it is not sufficiently cooked.
If you suspect you have coronavirus of the Middle East Respiratory Syndrome, consult your doctor immediately.
---
We make every effort to ensure that the information posted on our website is up to date and accurate according to the latest public health recommendations; however, it is impossible for us to make changes on a daily basis.
For the most current travel health recommendations, please call our clinic as make an appointment with one of our travel health professionals.